Details about my new job!!!!!!!
I will be on Celebrity Cruise Line.
My ship is the Infinity.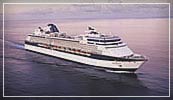 I will be the stage manager, but Mindy says my title will be
Production Manager. I will be in Nashville, TN for a week
with the cast while they rehearse then we all fly to Ft.
Lauderdale and board the ship. We rehearse while the
current cast performs and then when we get to San Diego,
the current cast departs and my cast starts their show.
I get my own cabin (no roomie) and it's a guest stateroom
which means ABOVE the waterline! heh heh I will probably
have an inside stateroom (no window) BUT WHO CARES?!?
I'm going on 2 free 14 day cruises! ACK!

14 Night Westbound Panama Canal Cruise on board Infinity
Fort Lauderdale, Florida, Oranjestad, Aruba, Panama Canal (Cruising),
Fuerte Amador, Panama, Puntarenas, Costa Rica, Huatulco, Mexico,
Acapulco, Mexico, Cabo San Lucas, Mexico, San Diego, California

San Diego, California, Hilo, Hawaii, Mount Kilauea – Evening Sail,
Kailua Kona, Hawaii, Lahaina, Maui, Hawaii, Honolulu, Oahu, Hawaii,
Ensenada, Mexico, San Diego, California

If you click on the links above it will take you to a page that shows the maps
and more info about each port. Click the tabs to see even more crap about
the trip. I know this is probably waaay more info than you care to look at,
but I can't help it!!!!!!

OMG I am so freaking excited I can hardly wait. Of all the places I am going
the ONLY one I have been to before is Ft. Lauderdale!

Kirsten (aka A.C.) I will be in Cabo for 8 hours ON MY BIRTHDAY!!!!!!!!!!
Give me an idea of where I want to go??!!??

*dancing around* (No, really!) This is the coolest job EVER!

AHHHHHHH!

THANK YOU TO ALL WHO WISHED LUCK FOR ME – IT WORKED!

Okay I gotta go. I have to get dressed and go get my passport photo taken.
At least I wont have to worry about smiling…..I can't seem to stop!

XOXO